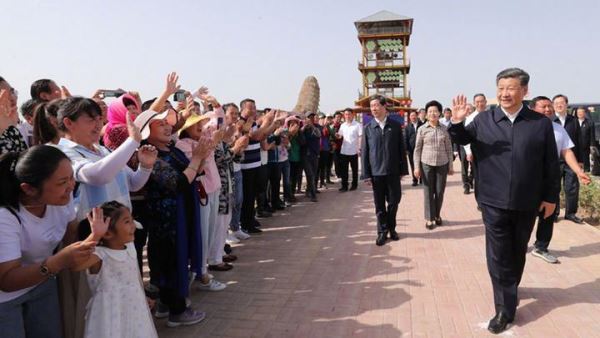 Chinese President Xi Jinping on Tuesday continued his inspection in northwest China's Ningxia Hui Autonomous Region as he visited a rural ecotourism park and vineyard in Helan County, Yinchuan City, capital of Ningxia Hui Autonomous Region.
President Xi also learned about ecological protection in Helan Mountain, an isolated desert mountain range located on the border between north China's Inner Mongolia Autonomous Region and Ningxia Hui Autonomous Region.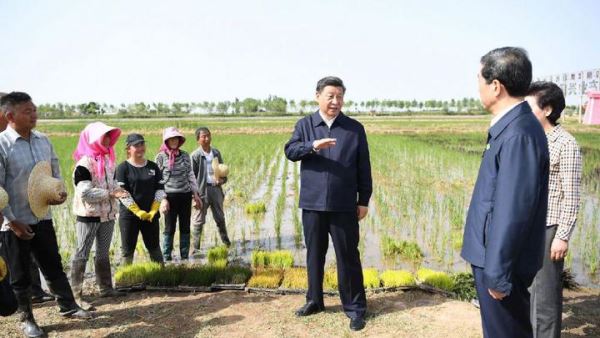 Chinese President Xi Jinping (C) inspects the rural ecotourism park located in Changxin Village of Helan County, Ningxia Hui Autonomous Region, June 9, 2020. /Xinhua
Located in Changxin Village of Helan County, the rural ecotourism park redeveloped its original rice fields and fish ponds to integrate nature with agricultural and fishing industries to offer tourists a unique traveling experience.
Xi was also briefed about efforts made towards integrated development of agriculture and tourism in the rural ecotourism park.
Noting that the Yellow River for long has been a source of life for the people of Ningxia, Xi urged locals to optimize their agricultural planting structure and develop water-savingagricultural techniques to increase the additional value of crops and protect water resources.
Read more:
President Xi inspects poverty alleviation and ecological protection in NW China's Ningxia
On Monday, Xi inspected poverty alleviation work and ecological protection in the region.
He inspected a section of the Yellow River in Wuzhong City, and learned about the ecological and environmental protection, and also visited a residential community in the city and stressed ethnic unity.
This is Xi's seventh domestic visit this year, following Yunnan, Beijing, Hubei, Zhejiang, Shaanxi and Shanxi.