Guangdong University of Foreign Studies (GDUFS) launched the second Video Contest for 'Telling China's Story' on last Thursday.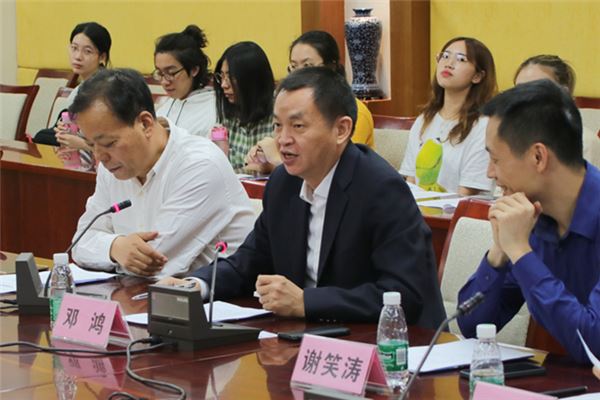 Deng Hong(center), Deputy Director-general of the Guangdong Information Officedelivering opening remarks [Photo provided to Newsgd.com]
Deng Hong, Deputy Director-general of the Guangdong Information Office addressed the crowd at the opening ceremony. He hopes that the contest can be a platform for demonstrating China's great achievements over the past 70 years, sharing Guangdong Stories including the construction of the Greater Bay Area, deep involvement in the 'Belt and Road' Initiative and presenting the best image of the universities in Guangdong.
Regardless of which country you are from or whether you are a professional or amateur film maker, you are welcomed to submit your video on the theme of "Celebrating the 70th Anniversary of the Founding of the People's Republic of China" from now until next March, to stand a chance of winning a serious cash prize of up to 10,000 RMB.
Prizes and Certificates
One First Prize Award Winner:
10,000 RMB prize and a certificate.
Four Single Awards:
Awards for Best Story, Best Documentary, Best Advertisement (Promotional Film), Best Animation, each being awarded 3,000 RMB and a certificate.
Eight Individual Awards:
Awards for Best Director, Best Actor, Best Actress, Best Script, Best Editing, Best Sound, Best Cinematography and Viewers' Choice, each with a prize fund of 2,000 RMB and a certificate.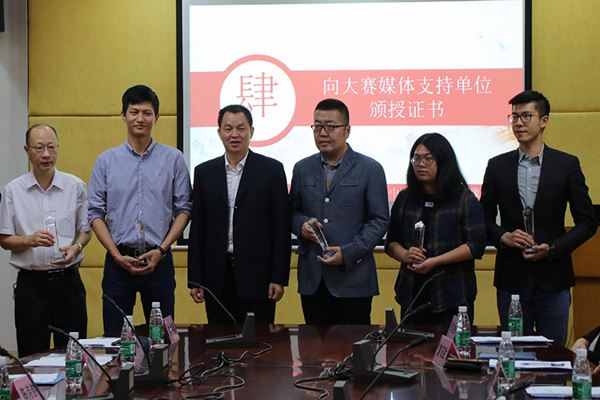 Media partners were awarded certificates during the opening ceremony [Photo provided to Newsgd.com]
Media promotion
The prize-winning works will be published via various media partners' platforms. Winners can also enjoy the opportunity of joining workshops organized by the event sponsors at home and abroad.
Who can submit
Interested participants (No limit on nationality).
The committee will divide the submissions according to the nationality of the producers, into domestic and international categories. And it will be further divided into college and non-college categories. The college category is exclusively students who are currently studying in universities.
How to join
1.Entries can be in the form of stories, documentaries, advertisements and animations;
2.Entries should be 15 minutes in duration.
3.Entries must be filmed after January 1st, 2018.
4.The format should be AVI, MPEG, DIVX, MOV or MP4, with an image resolution of no less than 1280×720 pixels.
5.All productions should be burned onto video DVDs (to ensure a fair competition, please do not label them). The dialogue or voiceover within should be subtitled (in simplified Chinese or English).
6. A data DVD is required for every submission, which should include a poster, a photo of the team and a 20 second trailer.
7.Participants should submit their production together with their application form in word document format. Please go to http://weibo.com/dvnewscar2011 to download the application form and letter of agreement, or send a message with "报名表" to the official account to receive them.
8.When submitting, please indicate on the envelope the production type, producers or production team, name and duration of production, and if applicable enclose student certificates of the team members with an official seal.
9.Participants who receive further notice should be ready to provide any material required by the organizing committee.
Contacts and Submission
1.Online Submission:
The participants shall name their production and send the required material to jhzhggs@163.com. Please entitle it as follows: "production type + production name + team leader's name+contact information".
2.Mail Submission
A. Required materials: the application form and letter of agreement, a video DVD, a data DVD and a disk (the file names within the disk should follow the format "production type + production name + team leader's name+contact information"). Student participants should also provide their student certificates.
B. Address: Room 304, Teaching Building C, Guangdong University of Foreign Studies, No. 178 Guangzhou Higher Education Mega Center, Panyu District, Guangzhou 510006 China. To: DVNEWSCAR Organizing Committee
Contact persons: Chen Wei 020-39328084, Chen Rujun 15018764883
3.In order to ensure the integrity of entries, please submit the entries and materials either online or via a courier such as SF Express.
4.If you have any further questions, please contact the Organizing Committee in the following ways:
A. Official account on Wechat: 广外DVNewscar微电影大赛 (ID: DVNEWSCAR)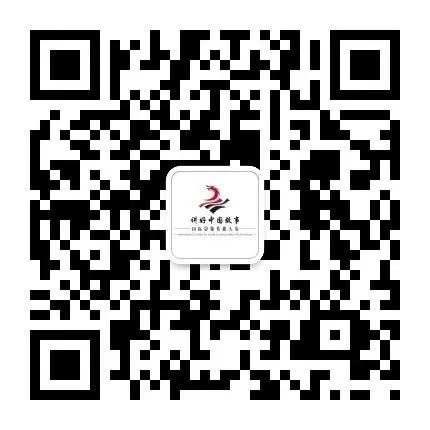 B. Official account on Weibo: @广外DVNEWSCAR微电影大赛
http://weibo.com/dvnewscar2011
Reported by Keane, Huang Yueming
Edited by Simon Haywood